3182n - First World Series
The First World Series stamp (Scott #3182n) was issued as part of the Celebrate The Century 1900s sheet on February 3rd, 1998 in Washington, DC. The description on the back of the stamp states, "The championship games of 1903 are considered baseball's first World Series. Boston of the American League beat Pittsburgh of the National League 5 games to 3 in a best-of-nine series." For more information on the series, visit this
Baseball Almanac
site. I was drawn to the stamp because I am a baseball fan in Boston and, at the time (before 2004), this might be as close to a World Series champion as I could get. Also, I was very intrigued at the three different approaches to making cachets for this stamp: 1) generic "Celebrate the Century 1900s" cachets, 2) generic baseball cachets, or 3) specific First World Series cachets. In fact, I have enough covers that depict the players, places, and events associated with the actual World Series that I have thought about trying to create a show display that uses the FDCs to tell the story of each game of the series.
Below you will find photos of all my 3182n FDCs alphabetically by cachetmaker. I also include a section for first day sheets. Since cachetmakers sometimes produce different cachets for the same stamp or slightly different versions of the same cover, I am showing either a single photo, multiple photos, a photo gallery view, or a slider view (when I have additional text per cover). If known, I have added rollover text documenting the number of covers created (e.g., "out of /25"). Sometimes I will also add variations that have interesting
cancellations
(I have identified ten dinstinct cancels), usages, or destinations. Also, the USPS went all out publicizing the Celebrate the Century series and I have a couple of those
marketing items
. In all cases, you can click to see an enlarged photo of the cover or postcard. I have also put all the 3182n FDCs and covers I own into a single, easy to view photo
gallery
.
I am always on the lookout for additional 3182n First World Series covers, particularly ones with unofficial cancellations. If you know of any cachetmakers I am missing or can provide corrections to this site (particularly in identifying "unknown" cachetmakers), please email me at
LPD Cachets
.
Below is the official ceremony program given to participants and attendees of the first day ceremony held in Washington, DC on February 3rd, 1998. The released the CtC: 1900s and CtC: 1910s stamps during the same ceremony providing a first day cancel of one stamp each (in this case, 3182d for CtC: 1900s). Not only did the USPS have a full agenda of speakers (Whitey Ford honored 3182n), but they also included a brochure that detailed Celebrate the Century stamp selection and design process, as well as, all the people involved on the CtC Commemorative stamp team.
Since the First World Series stamp was part of the Celebrate the Century: 1900s stamp sheet, several cachetmakers produced full sheet FDCs.
It can be a little difficult these days to distinguish between FDCs created near the first day of issue and add-on covers created years later; so, I have just listed my covers by cachetmaker and identify those that are clearly marked as add-ons. Near the end of the page, I have a slideshow of "Unknown" covers and would love any input in identifying them.
by Alex Rogolsky
(bottom: combo w/1381)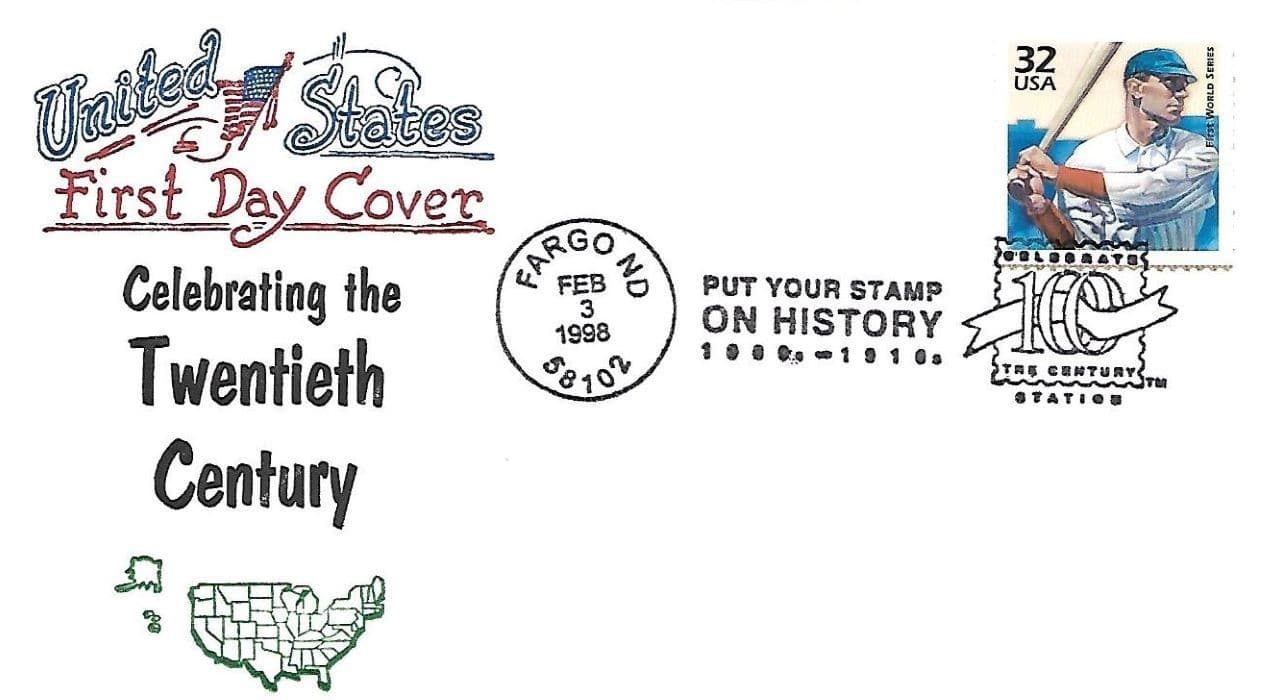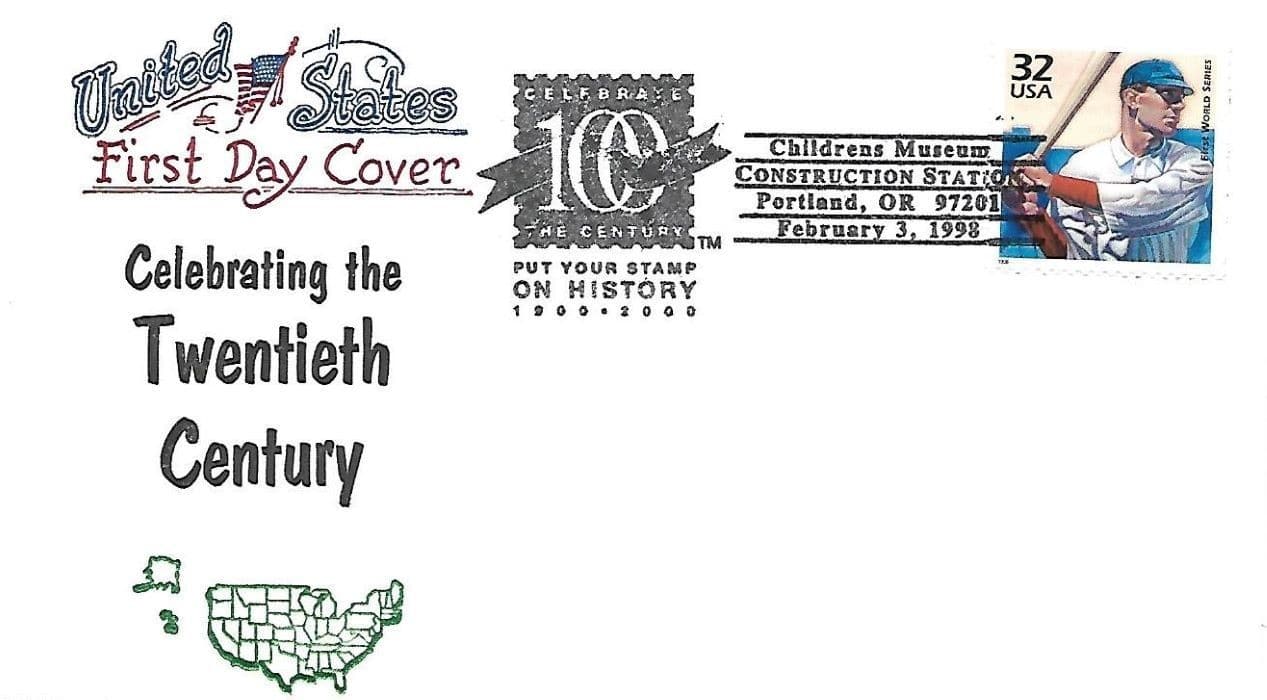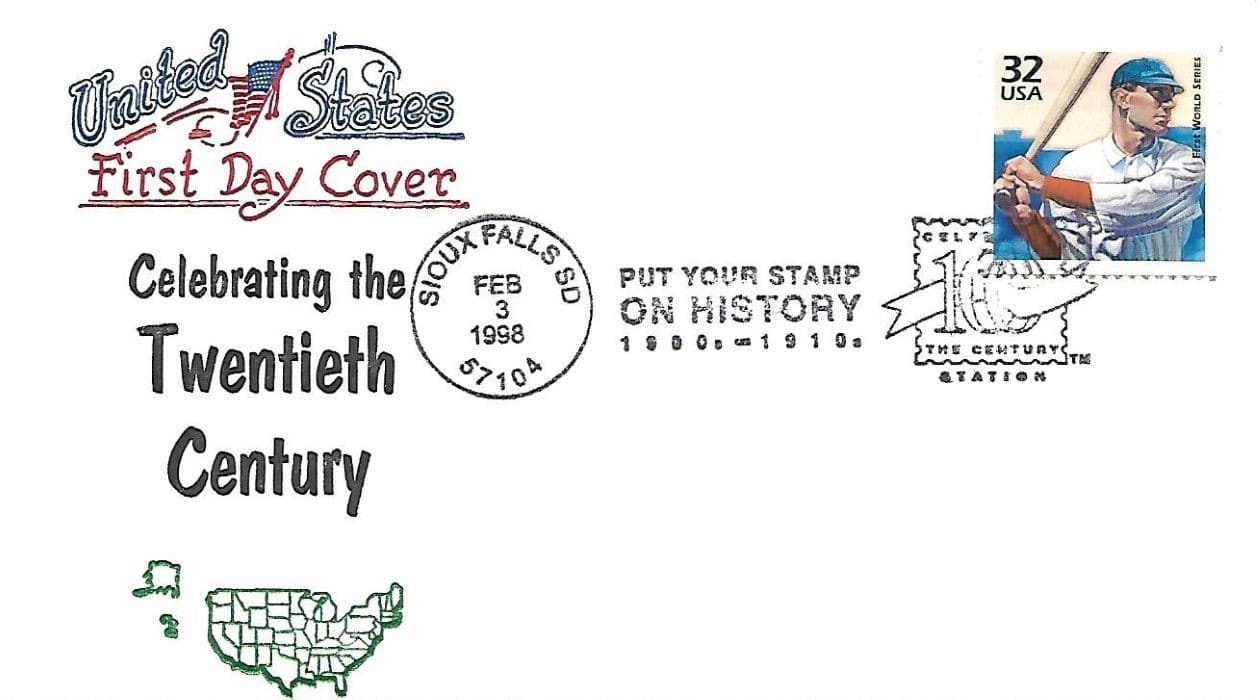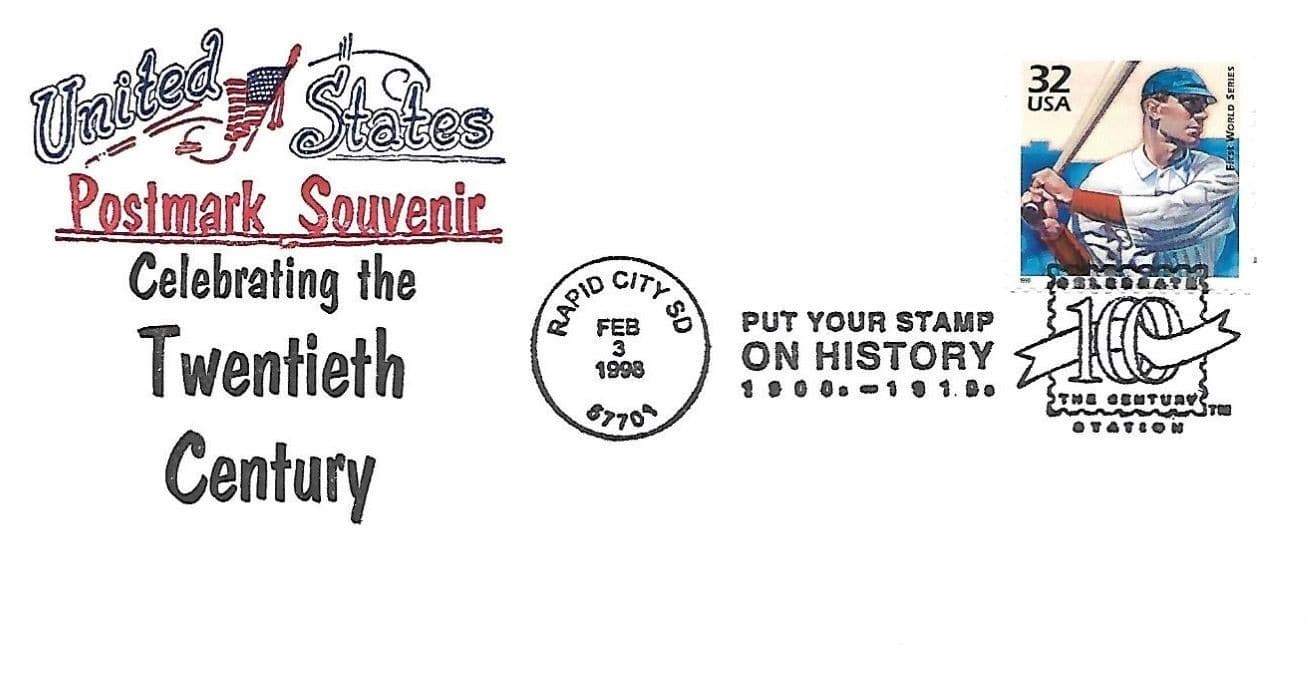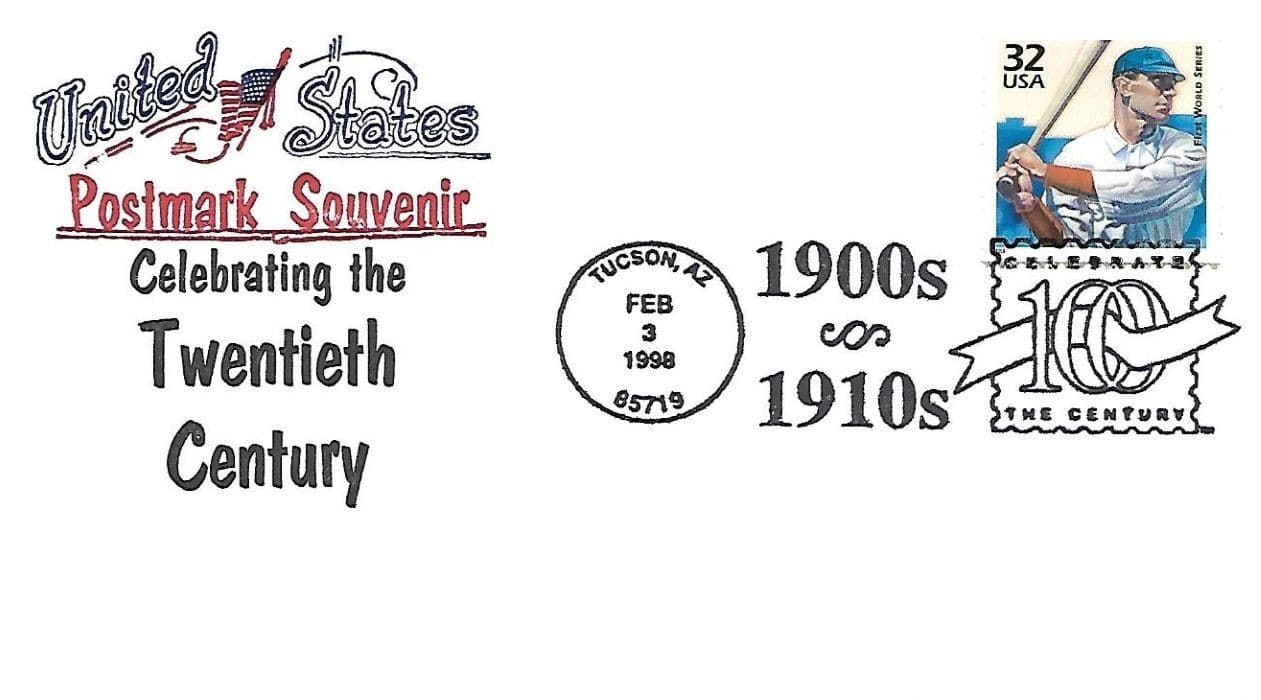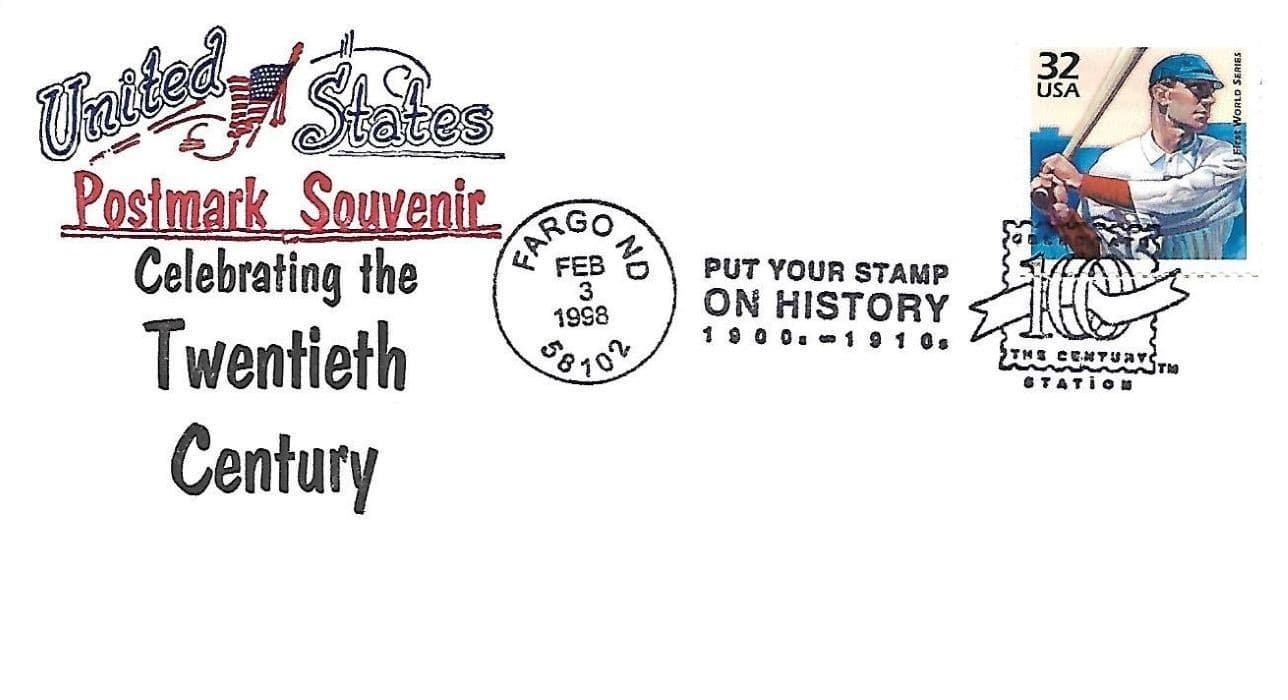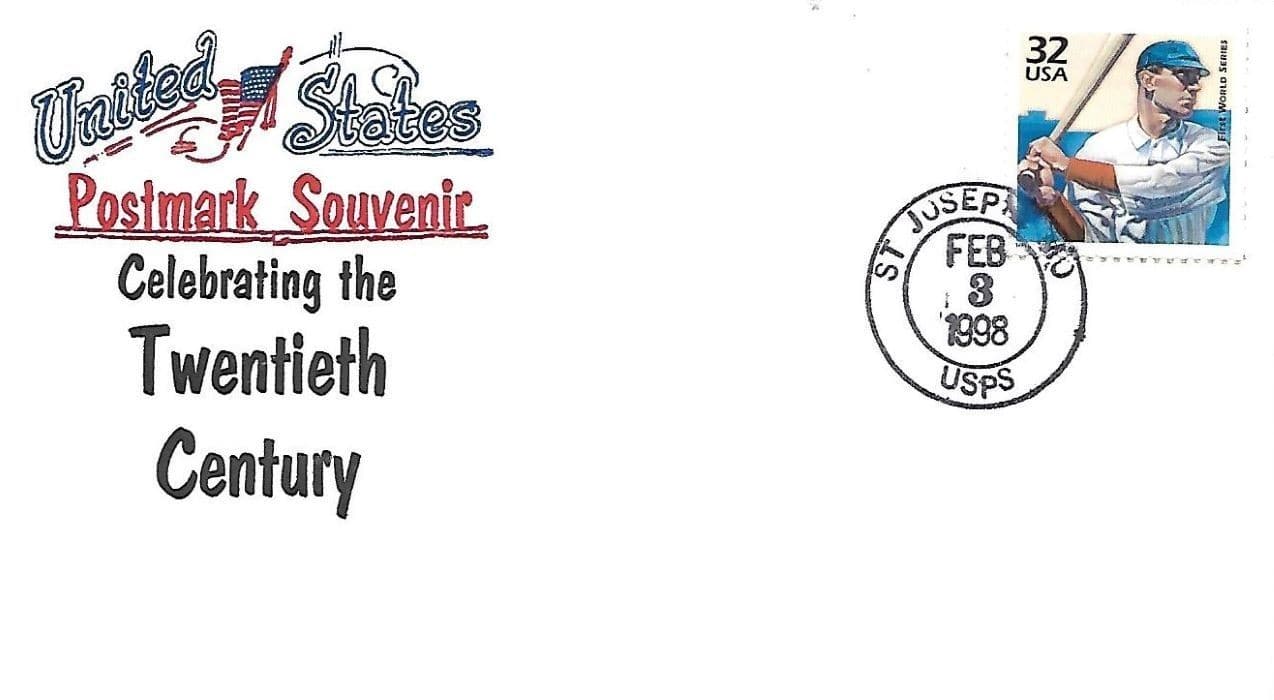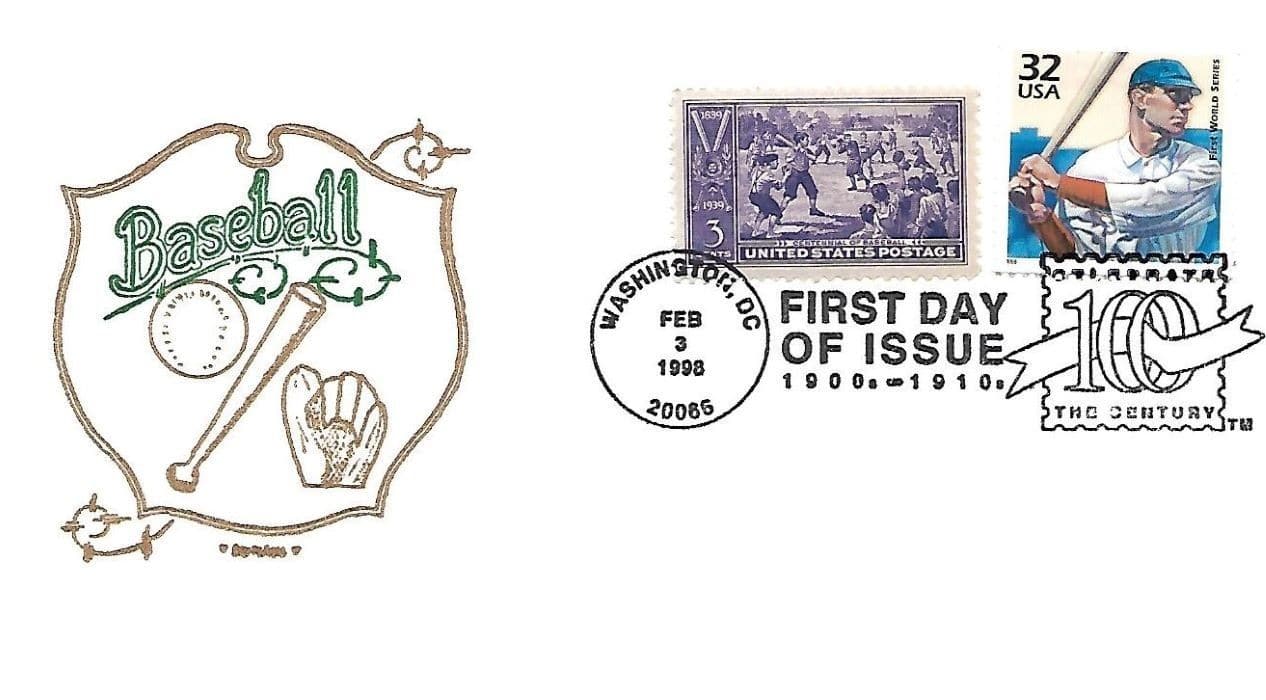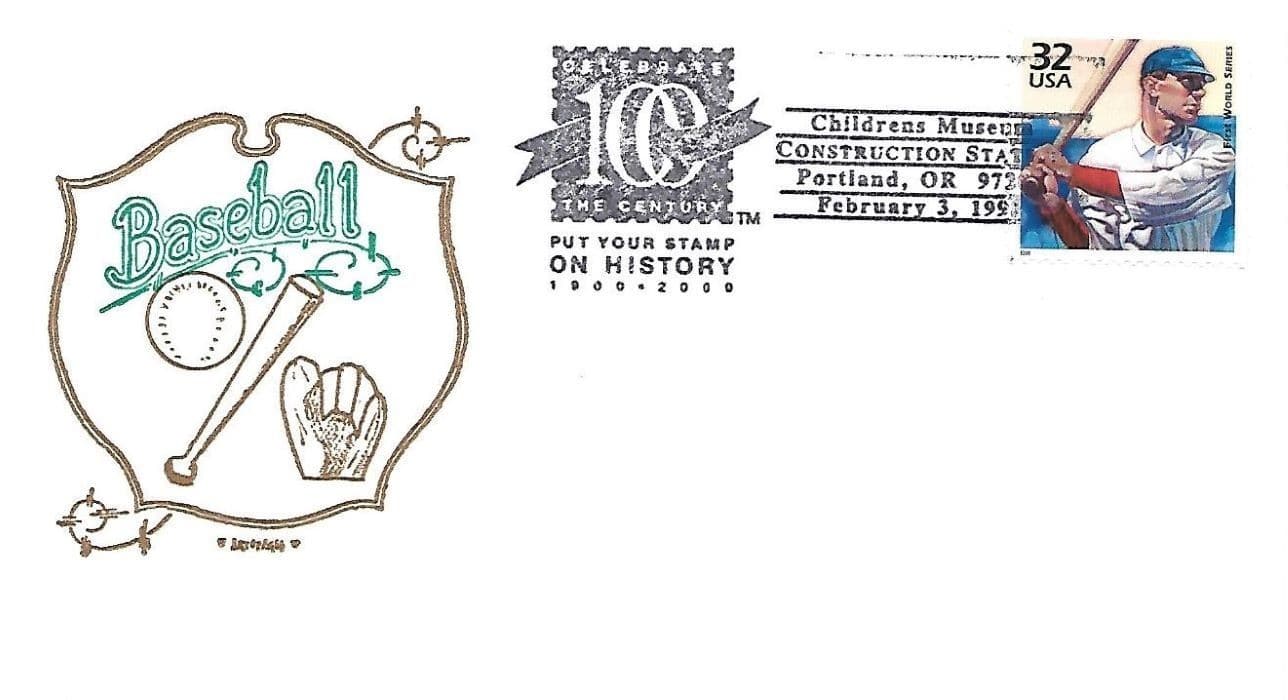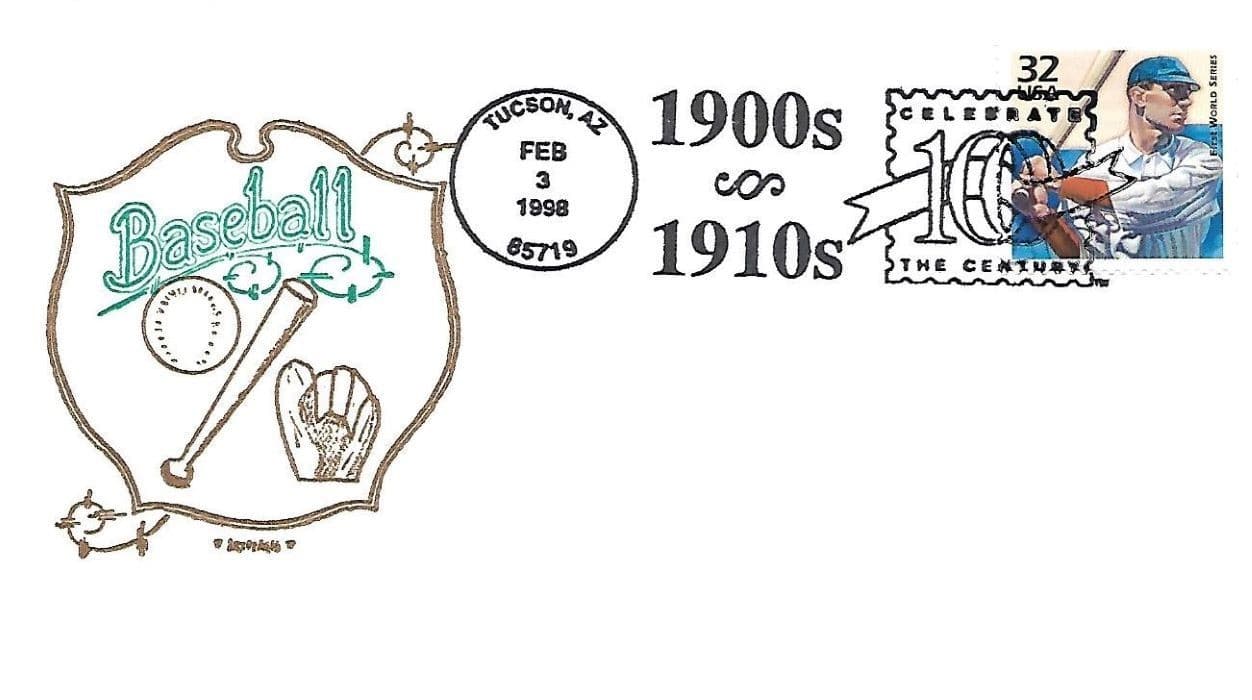 Three different cachet designs: First Day Cover, Postmark Souvenir, & Baseball with lots of unofficial cancels.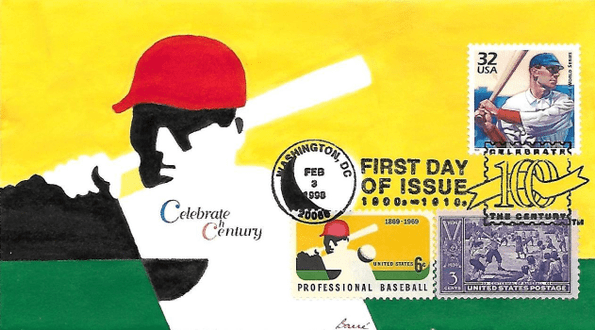 by Herb Barre (top: combo w/855 & 1381)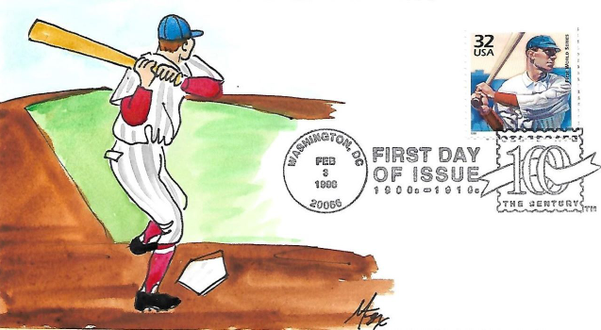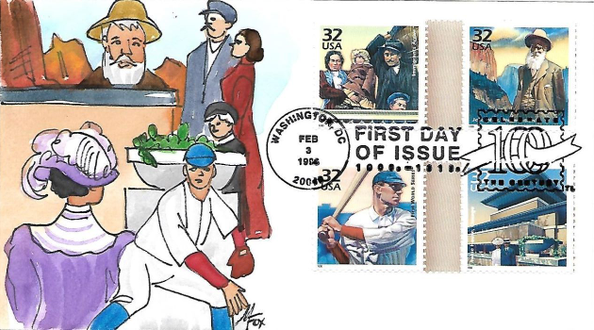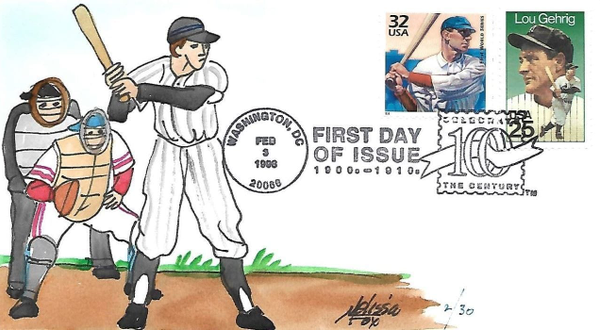 by Melissa Fox (add-on cachets with two combos w/other 1900s stamps & one combo w/2417)
by Gerry Adlman (bottom: combo w/other 1900s stamps)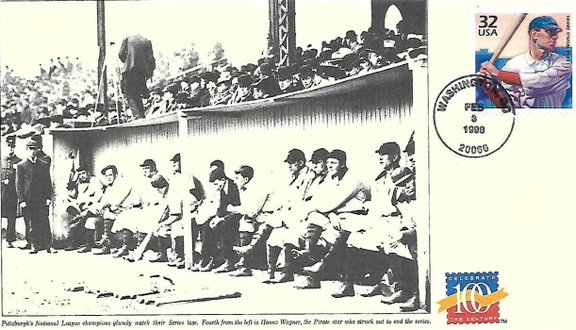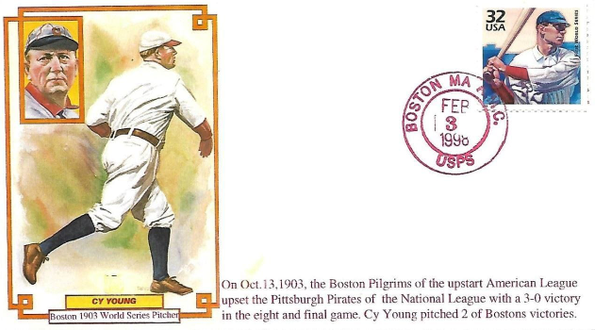 by Gary Gozemba (last one: OU - Boston, MA)
not all are marked "gg", but the overall design & envelope style match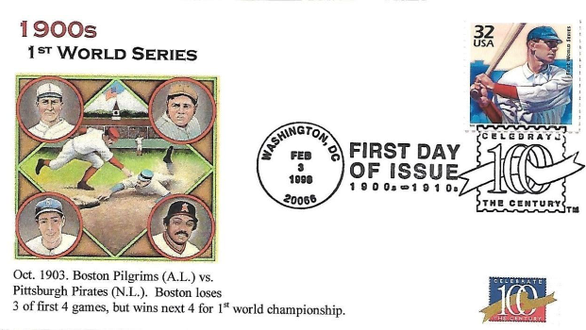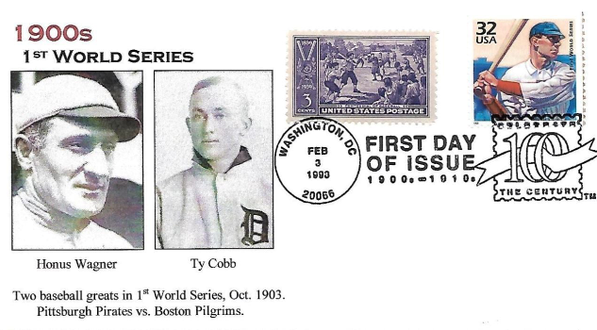 by Jack Ginsburg (combos include 855, 1381, and 3083)
two cachets, but with slight variations in formating and design
See Glad 1900s sheet FDC in above section by Gladys Kelly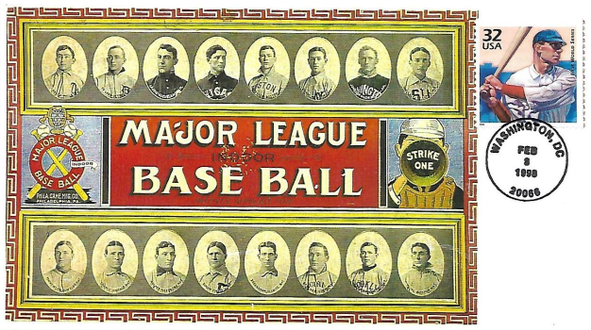 by Frank Murray (top: Shoeless Joe Jackson text)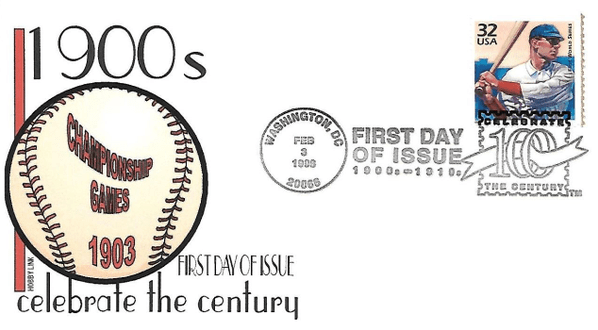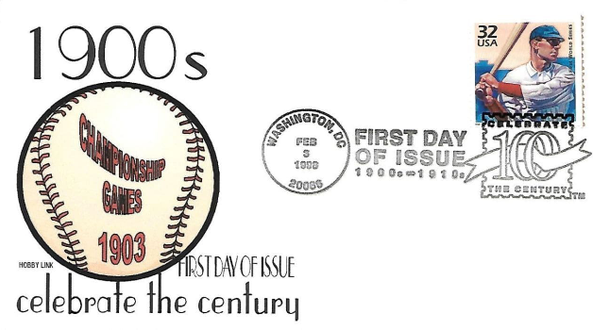 by Kevin Tracy (top: I believe the red bar denotes part of CTC 1900s set)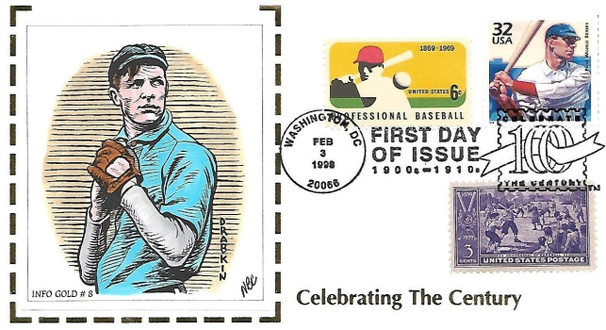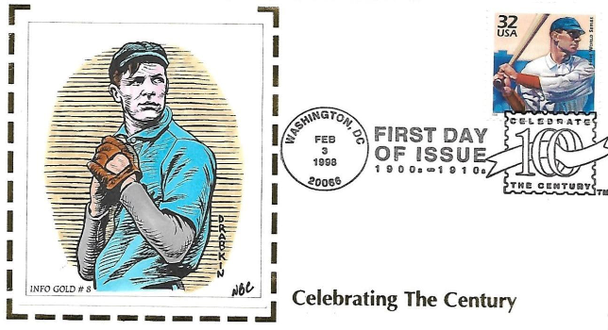 by Nicholas B. Capozzi (top: combo w/855 & 1381)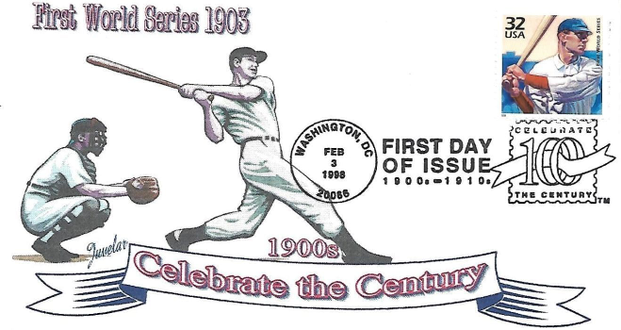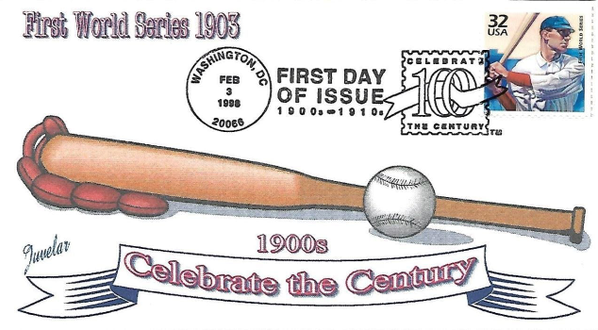 by Larry Church
(includes informational insert)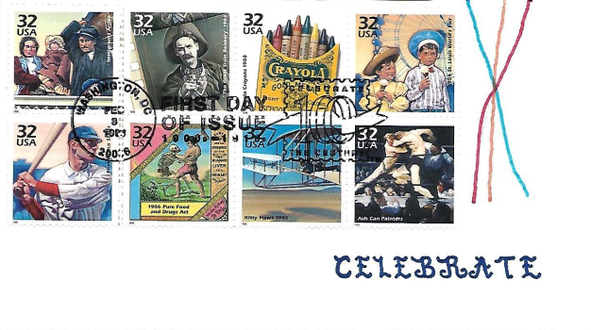 by Keith Harward (part of a 6 envelope design)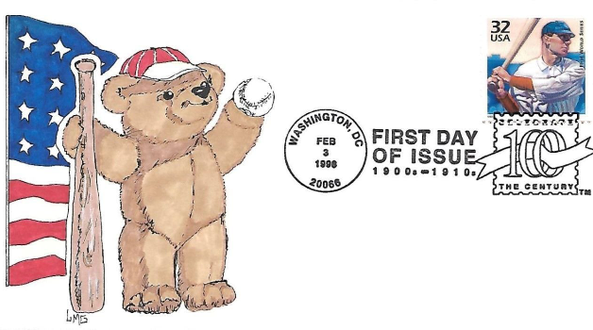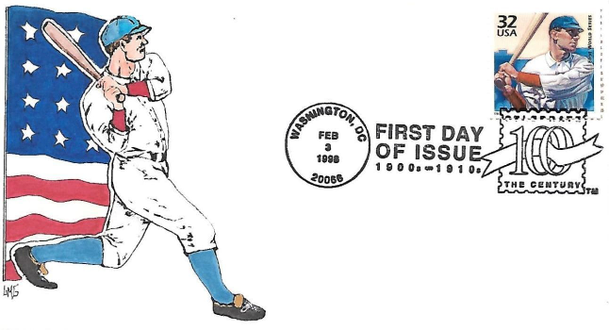 by Lawrence R. Carney (bottom: combo w/855, 1381, & 2619
a joint effort with Panda cachets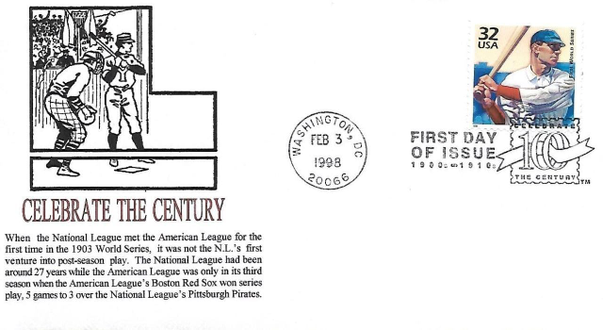 by Bernie Bernstein
(bottom: UO - Branson, MO)
he sends these to customers as Thank Yous & Show Anncmnts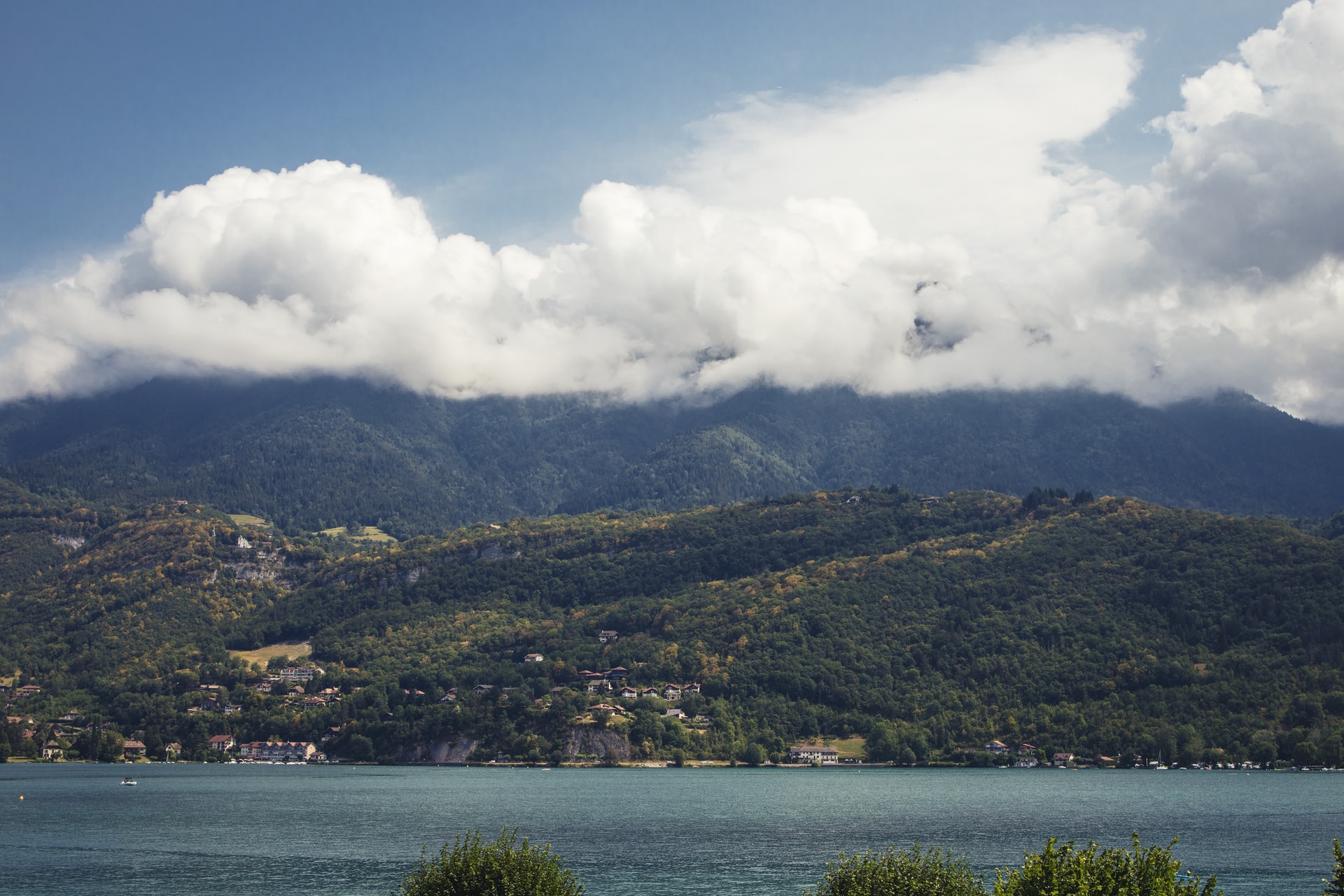 by Rollin Berger
(bottom: combo w/855, 1381, & 2619
a joint effort with LRC cachets
by Paul M. Wagner
...according to AFDCS list, but doesn't look like other PMW ones (but he says he likes creating baseball covers)...
by Julian F. Pugh (includes informational insert)
see Pugh 1990s FDC sheet FDC in above section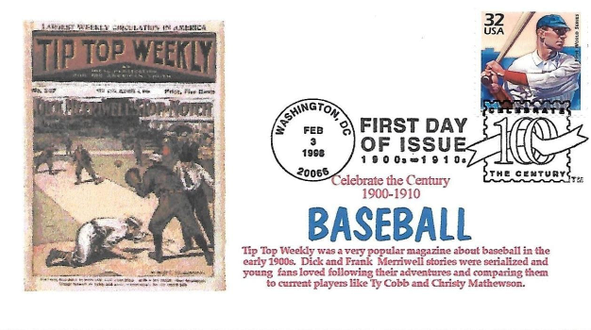 by Ralph & Diane Achgill
The are two FDCs in the Unknown section that are often attributed to RKA given their design, but are missing any "RKA" marking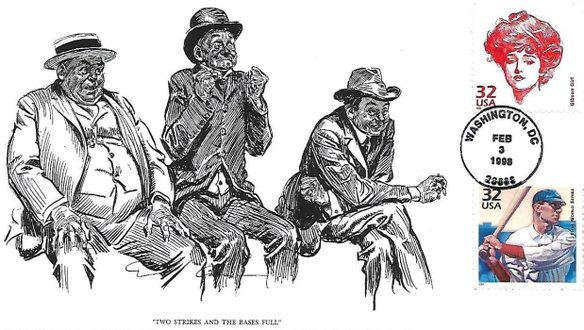 by Thomas J. O'Hagan (all three are combos w/other 1900s stamps)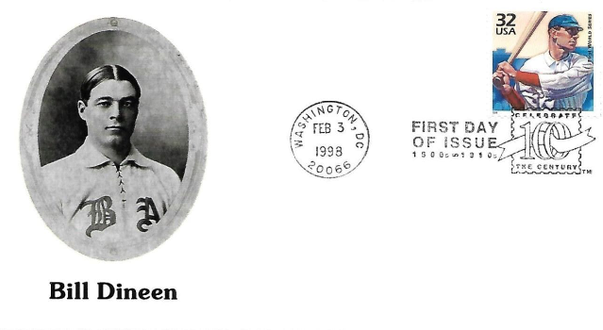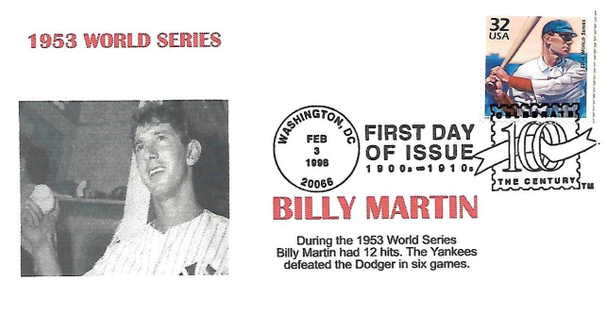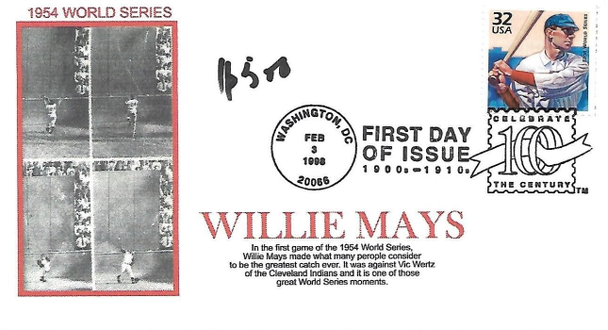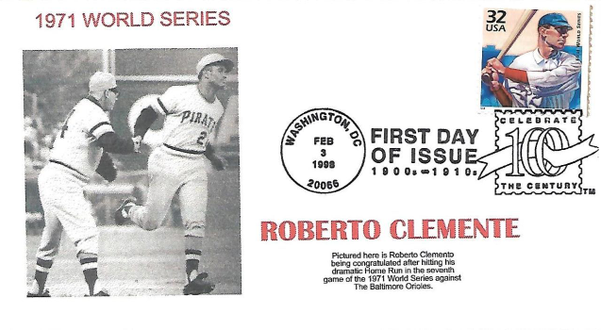 Only the first two are marked "Twin River Cachets", but the overall design & envelope style match (maybe Twin Rivers Stamp Co. in NJ?)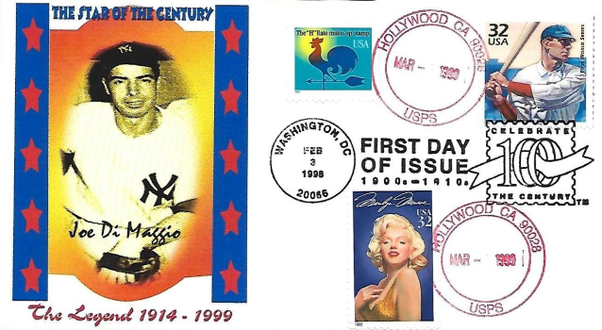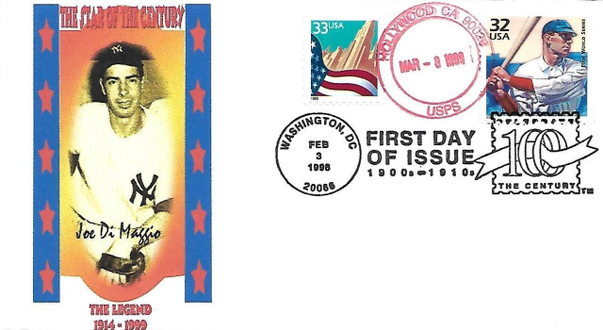 by Florence Villasenor
Slight different formatting; both include a 3/8/99 Hollywood, CA cancel (the day Joe DiMaggio died)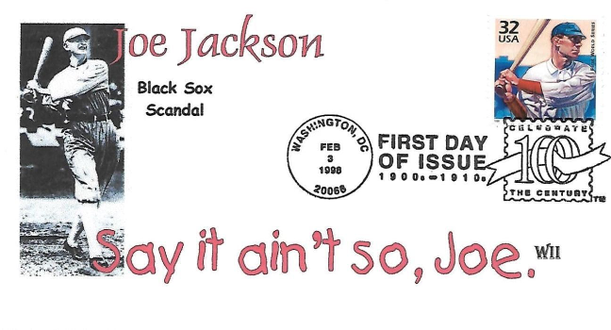 Clearly created by the same person (left one is hand colored)

A lot of text!

(UO - Fort Point Sta, Boston, MA)

Produced in very small editions by someone in Pennsylvania (both subjects are from PA and I have two next day covers by the same person with PA subjects & postmarks -- see next section of non FDCs)

These look very similar to RKA Cachets, but I am calling them "Unknown" for now...

Seems pretty clear these were all serviced by the same person. (all are from

Great Baseball Players of the Past: Thirty-Two Picture Postcards

)
Being baseball-related, the 3182n: First World Series stamp is often used in combination with other baseball-related FDCs and on non-FDCs that are celebrating some baseball event.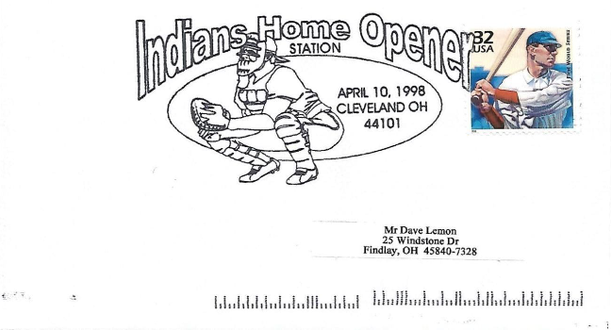 1998 Clev Indians Home Opener
Correspondence between Hal Ansink (Ace #94) & Don Lemon (Ace #141)
Produced in very small editions by someone in Pennsylvania (both subjects are from PA and I have two FDCs by same person with PA subjects/postmarks in Unknown FDC section above)