3182n First World Series FDC Miscellaneous
Below are the twelve distinct first day cancellations that I have seen (with multiple cities sometimes):
The USPS pulled out all the stops promoting the Celebrate the Century stamp series, particularly to younger audiences. To the right is the Stampers Saver Card for 3182n and below are the pages relevant to 3182n from the Celebrate the Century Super Heroes Stamp Album!
Below is the USPS Commemorative Panel for the Celebrate the Century:1900s stamps.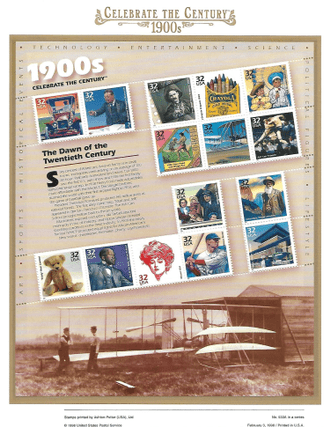 Here are all the 3182n FDCs that I own in a single, easy to view photo gallery (broadly speaking, the covers are somewhat alphabetical).