2590 - Surrender of Burgoyne
The $1 Surrender of Burgoyne stamp (Scott #2590) was issued on May 5th, 1994 in New York, NY at the American Stamp Dealers Association Show (see the
USPS Souvenir Page
). The main design of this stamp was taken from a mural by John Trumbull,
Surrender of General Burgoyne at Saratoga
, completed in 1824 at the U.S. Capital. Czeslaw Slania, considered by many the most skilled and prolific of all stamp engravers, did the engraving for the Surrender of Burgoyne stamp (I have several
Slania autographs
on non-first day 2590 covers).
I have always been interested in military history, particularly the Revolutionary War. Saratoga was an enormous victory for the Americans, long overshadowed by Yorktown. In fact, during college, I once wrote a paper hypothesizing the impact on our country if the British had completely surrendered after Saratoga instead of Yorktown. Interestingly, Benedict Arnold is often sited as the unsung hero of the battle, leading several charges that broke the British resistance and resolve.
So this stamp was an obvious choice for my FDC collection. Most cachets depict the scene of the British General John Burgoyne surrendering his sword to the American General Horatio Gates. Many covers leverage the fact that the USPS had already issued two stamps commemorating the battle (Scott #644:
Burgoyne Campaign
in 1927 & Scott #1728:
Surrender at Saratoga
in 1977). Interestingly, several cachets depict George Washington who wasn't anywhere near the battlefield!
Below you will find photos of all my 2095 FDCs alphabetically by cachetmaker. I also include a section for the Ceremony Program which, in this case, is signed by all the presenters/speakers! Since cachetmakers sometimes produce different cachets for the same stamp or slightly different versions of the same cover, I am showing either a single photo, multiple photos, a photo gallery view, or a slider view (when I have additional text per cover). If known, I have added rollover text documenting the number of covers created (e.g., "out of /25"). Sometimes I will also add variations that have interesting
cancellation
s
(I have identified three unofficial cancels (Stillwater, NY, Saratoga Springs, NY, & Schuylerville, NY) and five distinct New York, NY cancels), usages, or destinations. In all cases, you can click to see an enlarged photo of the cover or postcard. I have also put all the 2095 FDCs I own into a single, easy to view photo
gallery
.
I am always on the lookout for additional 2590 Surrender of Burgoyne covers. If you know of any cachetmakers I am missing or can provide corrections to this site (particularly in identifying "unknown" cachetmakers), please email me at
LPD Cachets
.
Below is the official ceremony program given to participants and attendees of the first day ceremony held in New York, NY on May 5th, 1994. The stamp was released during the American Stamp Dealers Association show at Madison Square Garden. Most programs only have the standard New York, NY postmark, but this one has an additional ASDA first day cancellation (in combination with 644 & 1728). Plus, it is signed by all the presenters/speakers!
It can be a little difficult these days to distinguish between FDCs created near the first day of issue and add-on covers created years later; so, I have just listed my covers by cachetmaker and identify those that are clearly add-ons. Near the end of the page, I have a slideshow of "Unknown" covers and would love any input in identifying them.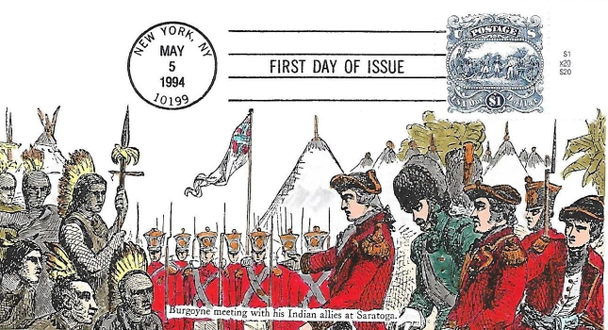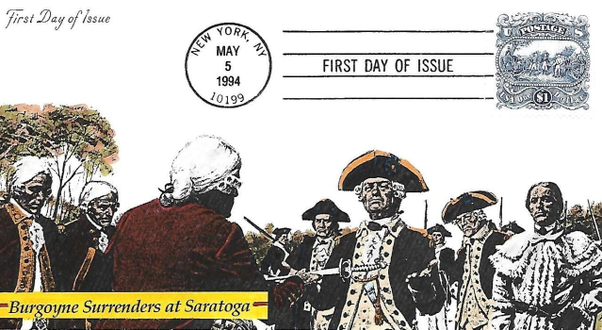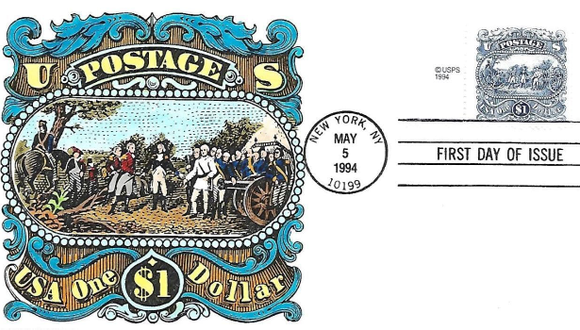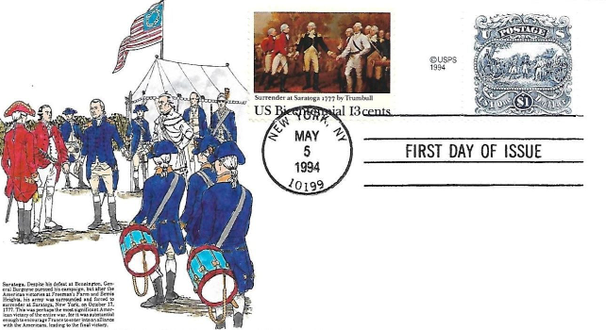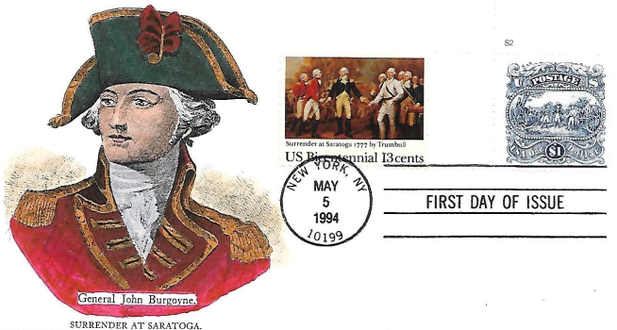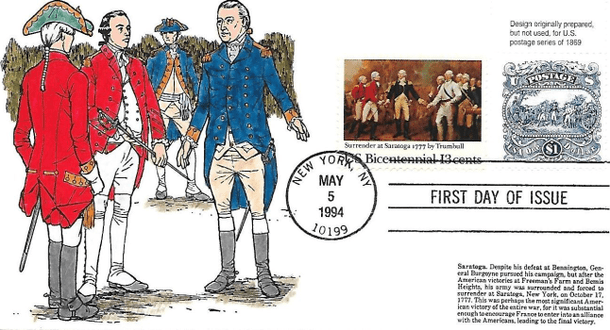 by Regis C. DeNinno (last three are combos w/1728)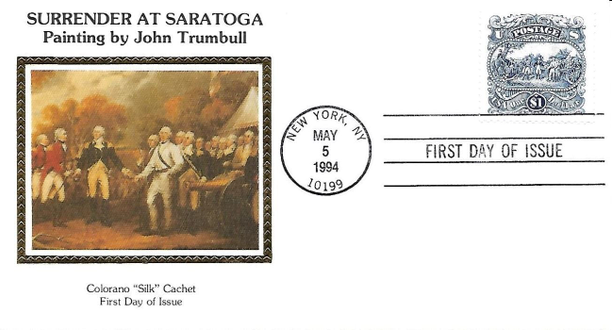 (last one is a dual on 1728 cover)
Czeslaw Slania Study Group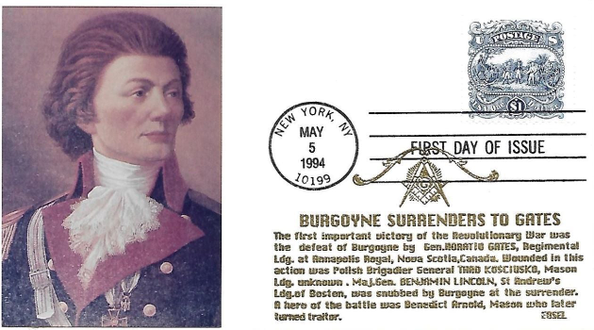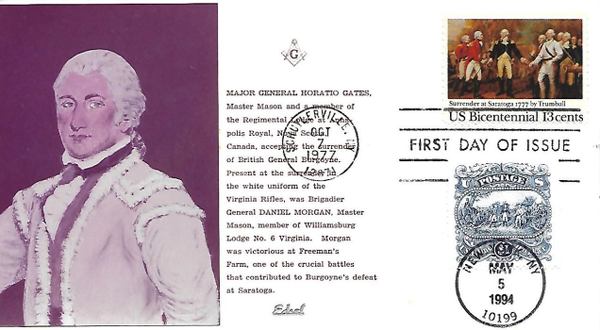 by Edsel Arthur Hatfield (last three are duals on 1728 cover)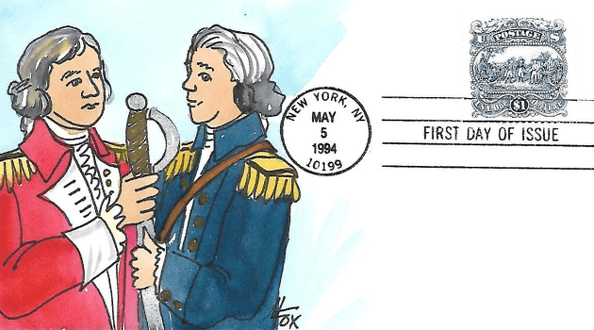 by Melissa Fox (add-on cachets)
Friends of the Saratoga Battlefield
Same day National Parks Passport cancel on back from the Saratoga National Historical Park in Stillwater, NY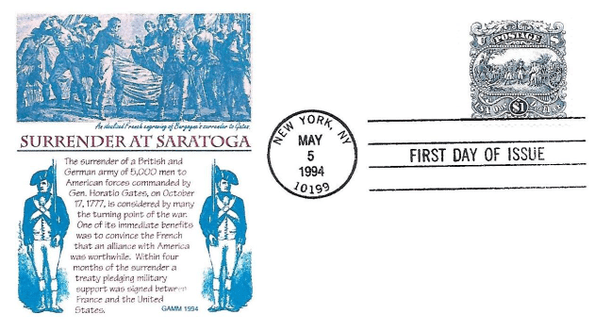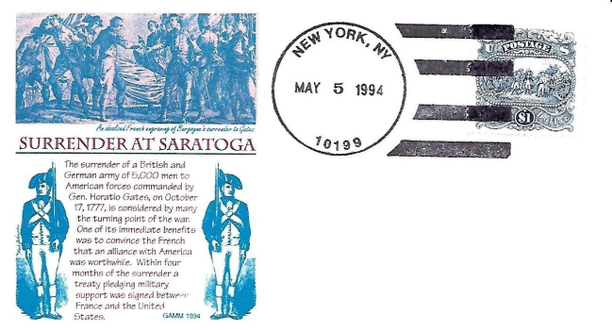 by Gerry Adlman (last cover is only FDC I have seen with that cancel)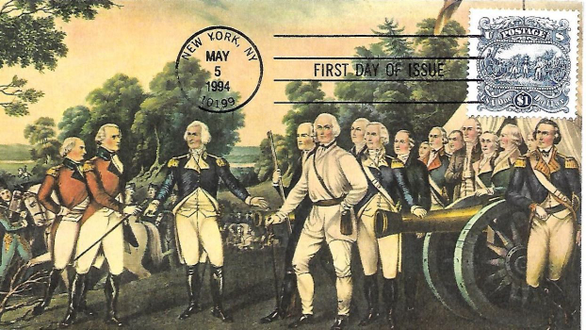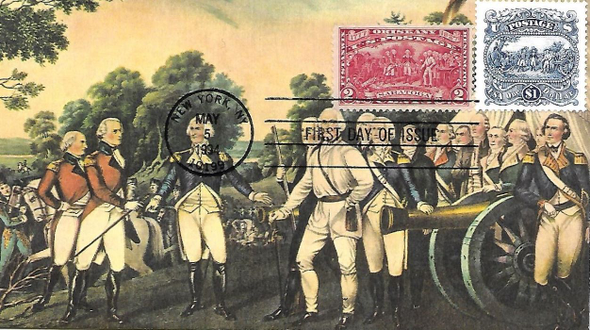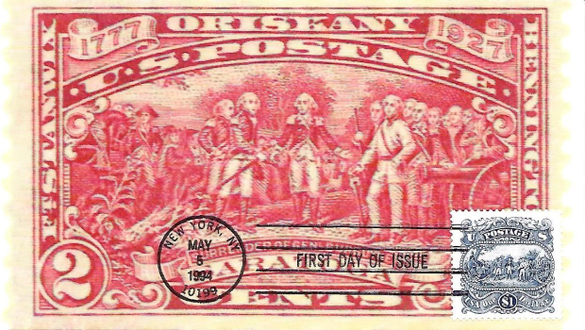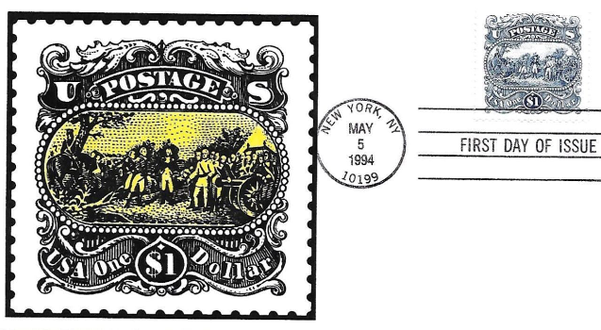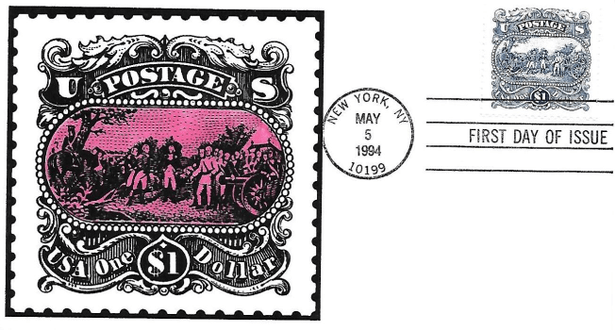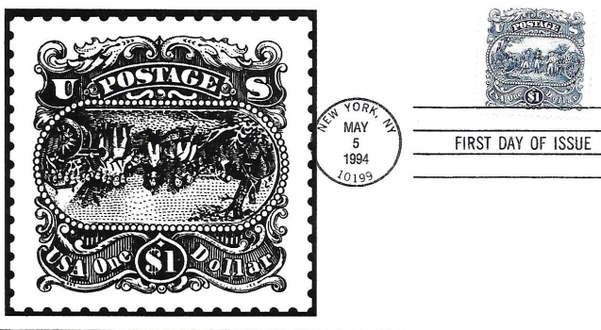 by Andy Doback (notice the inside picture is upside down in the last one)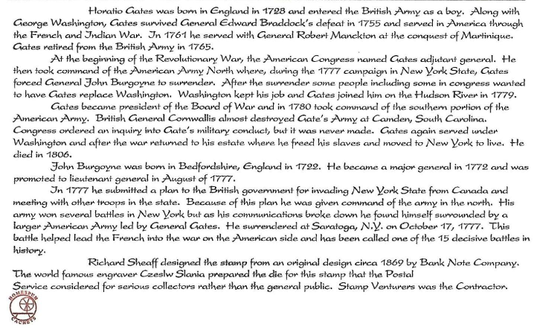 by Barry Southard (shown too are the write-ups that came with each cover)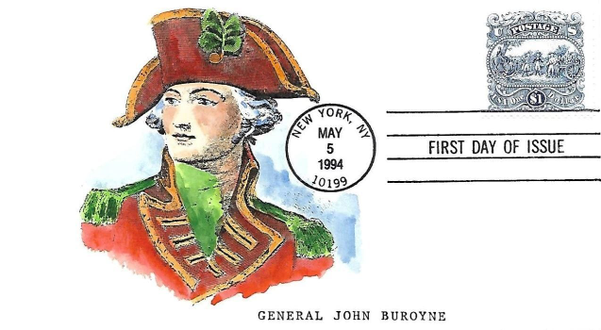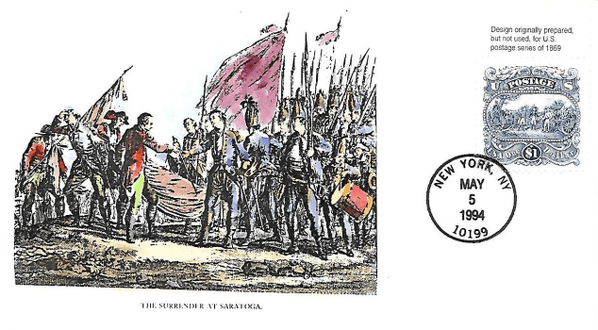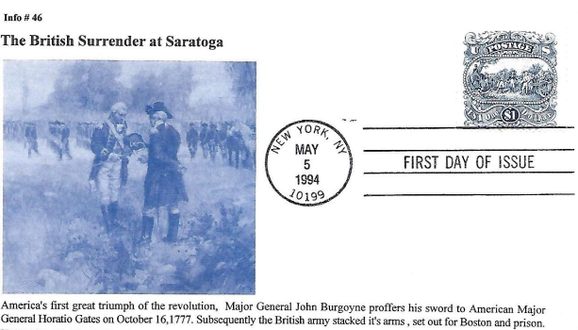 by Nicholas B. Capozzi (includes informational insert)
Just in case I get around to producing an add-on cover.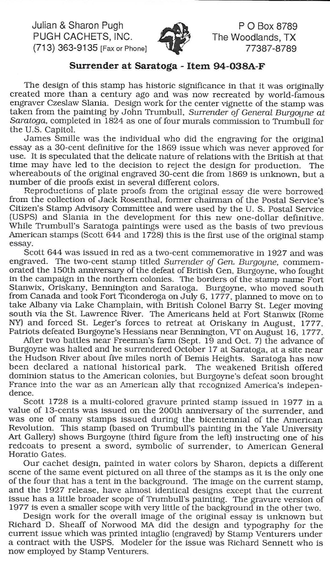 by Julian F. Pugh (includes informational insert)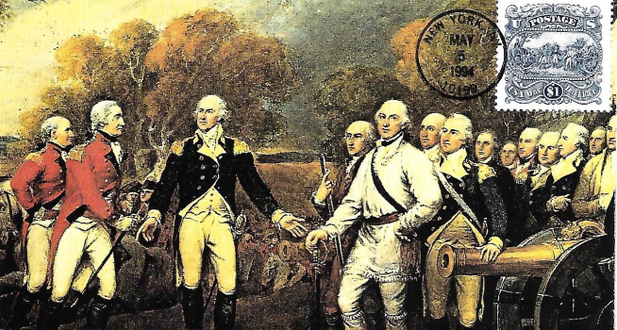 by Thomas J. O'Hagan (bottom one combo w/1728)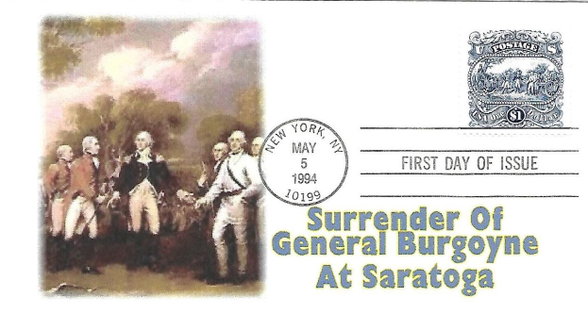 Sons of the American Revolution
Several for sale but too expensive for an add-on